Yellow is the lightest and most vibrant of all colours.
Shades of yellow appear cheerful and happy and stand for summer, sun and a good mood.
Due to their warmth, yellow tones can make even dark rooms appear friendlier and are ideal for rooms with little natural light.
Yellow wall colors brighten up a room and enlarge it optically.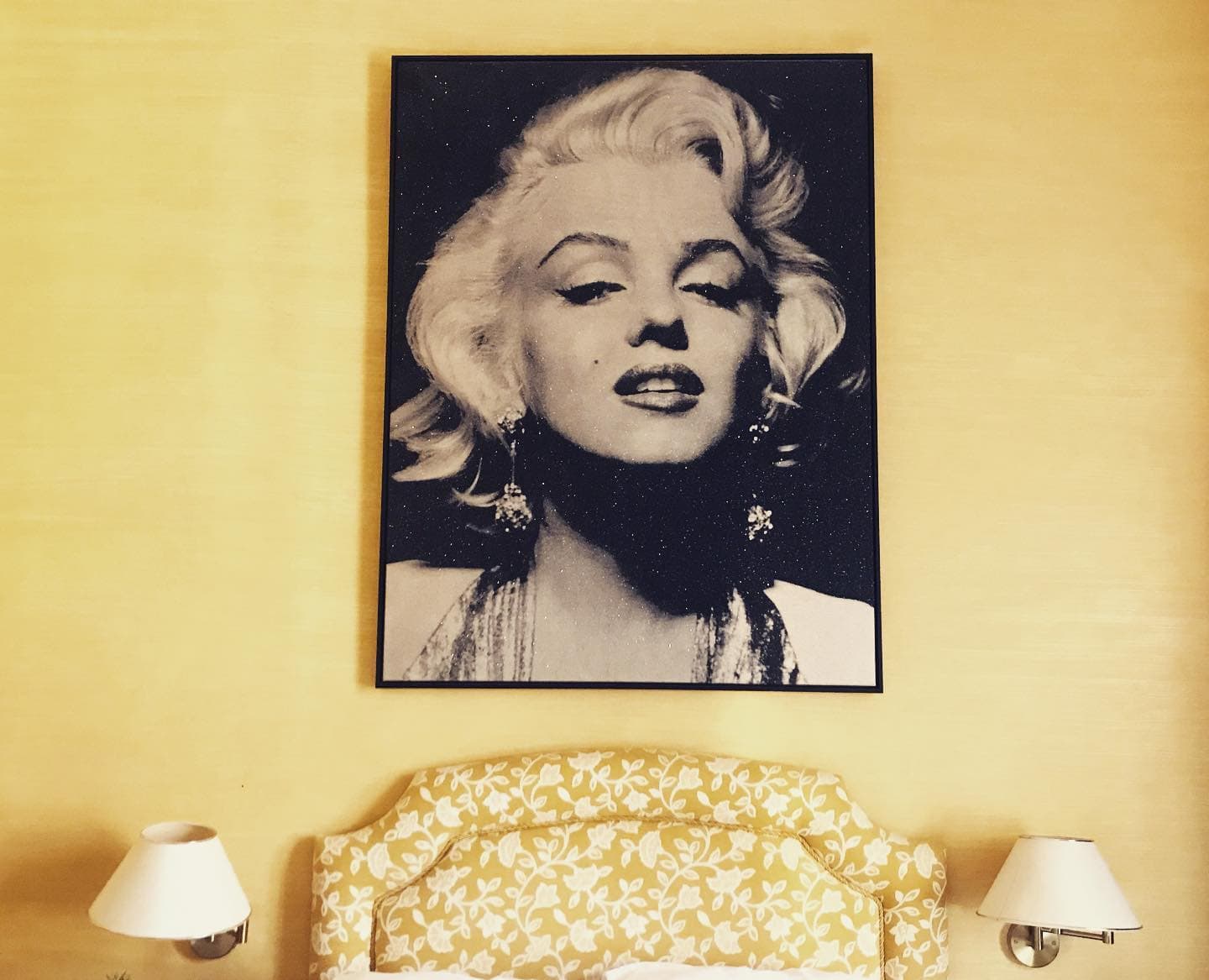 To give a brief overview of our yellow color palette, we have divided it into light, medium and dark yellow tones.
Light yellow tones include pale yellow tones and vanilla tones.
As a light hue, yellow appears gentle, soft, almost indifferent, yet the friendly, warm character is retained.
It is also interesting that a light yellow as a ceiling colour is perceived as even more radiant than the colour white.
Our color collection includes several beautiful, delicate shades of yellow, such as our San Miguel Sand or our Malaga Cheese.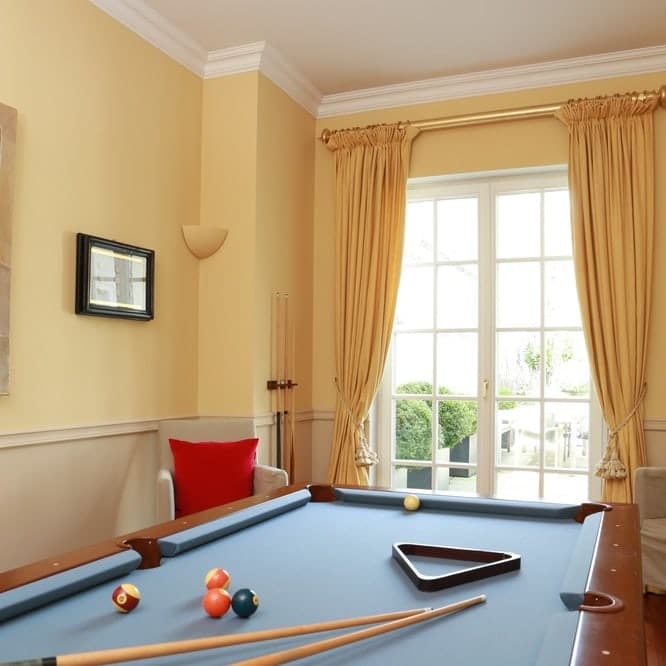 All bright yellow tones from lemon yellow to sunny yellow fall into the medium yellow tones category, such as our Palm Beach Banana or Jamaica Pineapple from our Caribbean Collection.
If you like the strong look, you can also paint an entire room in this color, you just have to be careful that it doesn't look too obtrusive.
From mustard to yolk yellow to golden yellow, all these shades of yellow fall into the category of dark yellow tones and are particularly expressive.
An extravagant, noble effect is achieved with dark yellow tones.
The best example of this is our popular Baltimore Mustard from the Indian Summer Collection, which can be perfectly combined with different furnishing styles.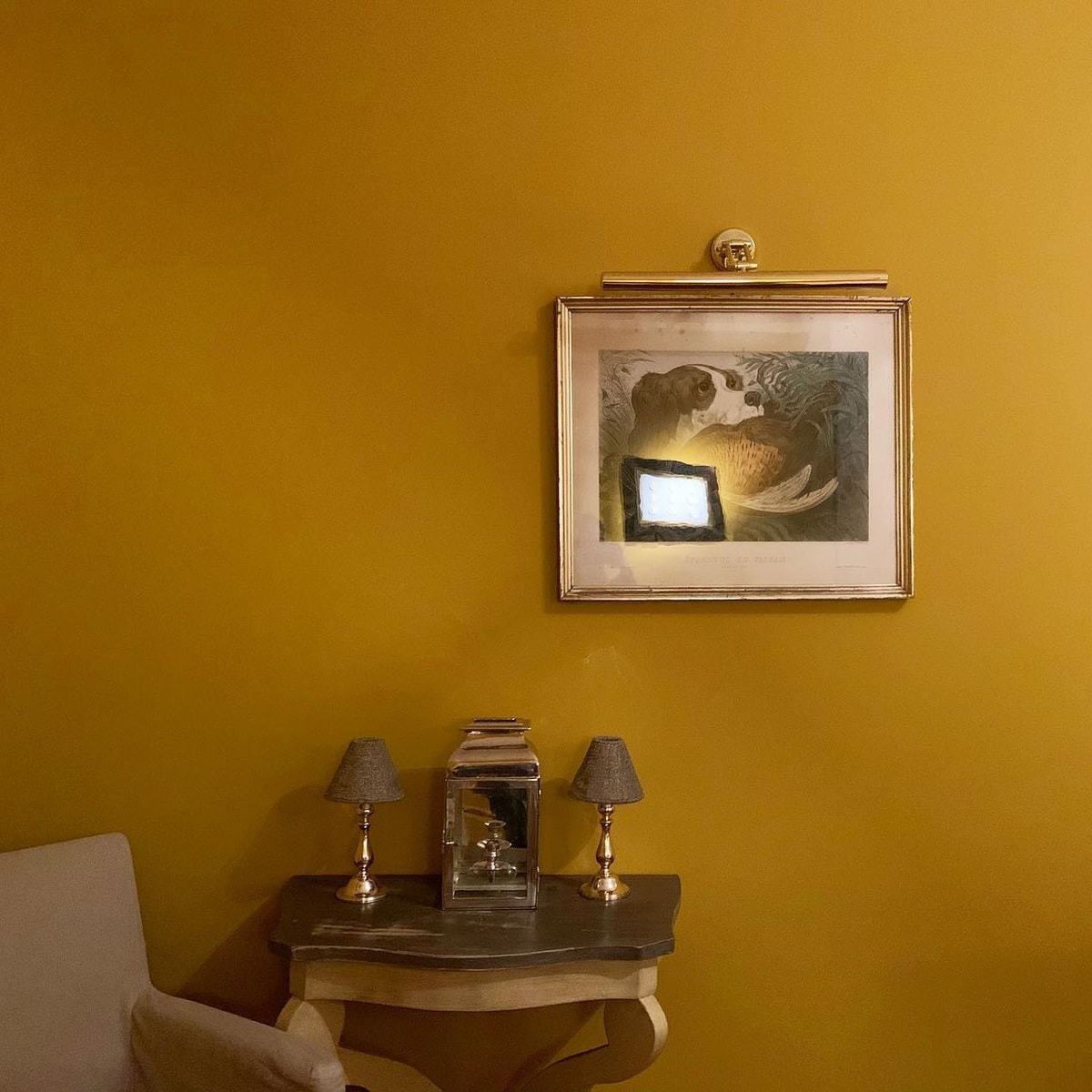 CC 1008 Baltimore Mustard
As already mentioned at the beginning of the article, yellow is ideal for rooms with little daylight, so that these rooms also radiate warmth and friendliness.
Yellow is also an excellent choice as a wall colour for the study, as it stimulates intellectual and creative activity.
Yellow can be combined with a wide variety of colours and furnishing styles.
Very classic, of course, with white, which immediately makes the room shine even more.
But more unusual combinations such as blue or green tones are also becoming increasingly popular.
A sunny yellow next to a strong blue immediately puts you in a holiday mood.
It creates a modern atmosphere.
Depending on the shade of yellow, different shades of green are combined, such as a delicate green with a light pastel yellow, a strong leafy green or a natural olive shade with stronger yellow tones.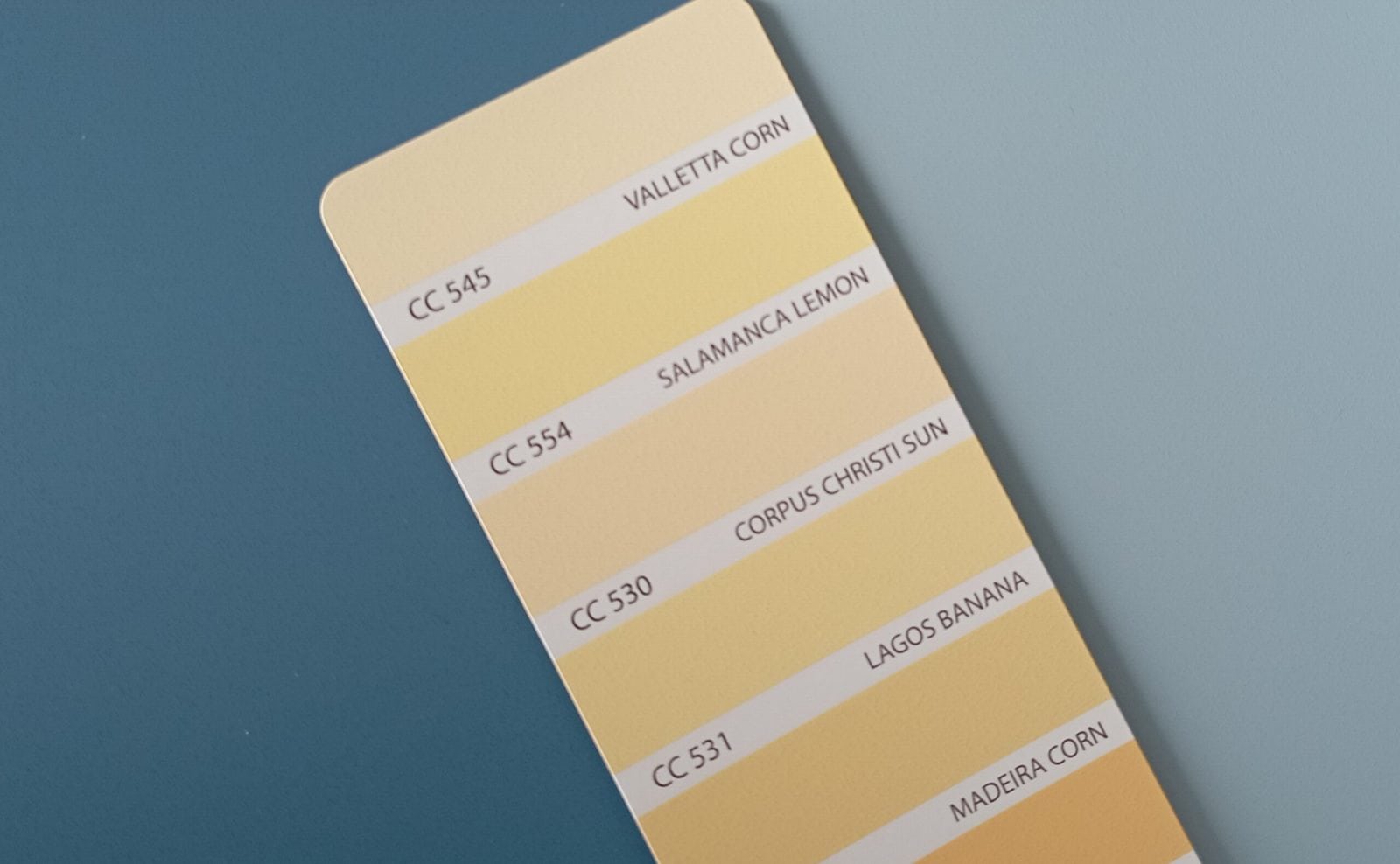 Shades of yellow go particularly well with blue
A room becomes even warmer if you combine yellow with orange, red or pink tones. Depending on the colour combination, it is also possible to create an exotic look with this combination.
In heavily used rooms, however, an intensive color combination with orange, red or pink tones should be chosen with care, as these can have a tiring and tiring effect on the eyes over the long term due to the strong perception.
To avoid this, at least one light tone should be included.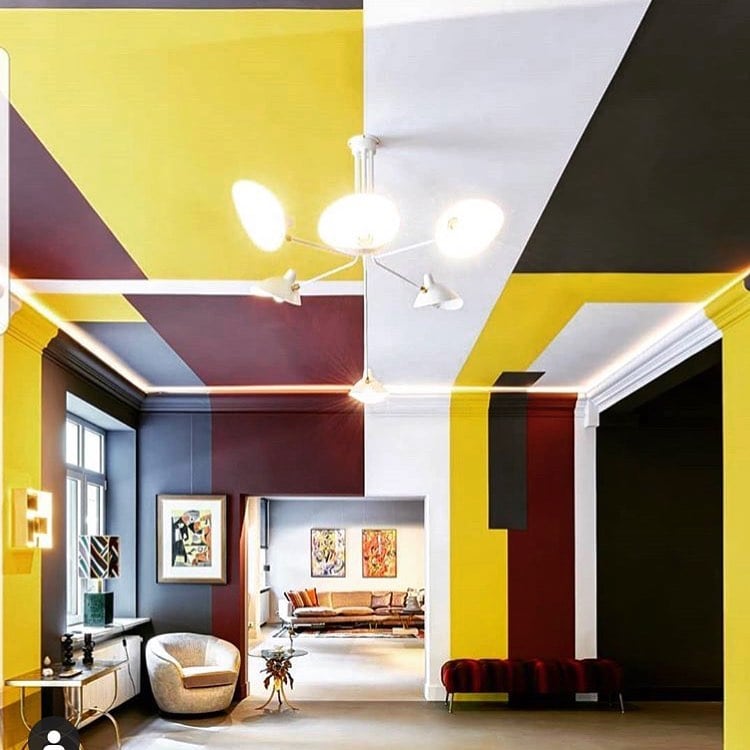 The Remade Interior showroom in Munich shows an unusual combination option
Yellow tones are particularly expressive in combination with gray tones, whether with a light gray or a strong anthracite tone.
In the interplay of these two colours, it can be a bright yellow, so that it brings life into the urban gray and is not overshadowed by it.
But not only together with other wall colors or pieces of furniture, but also with metal, glass or stone elements there are wonderful combination possibilities.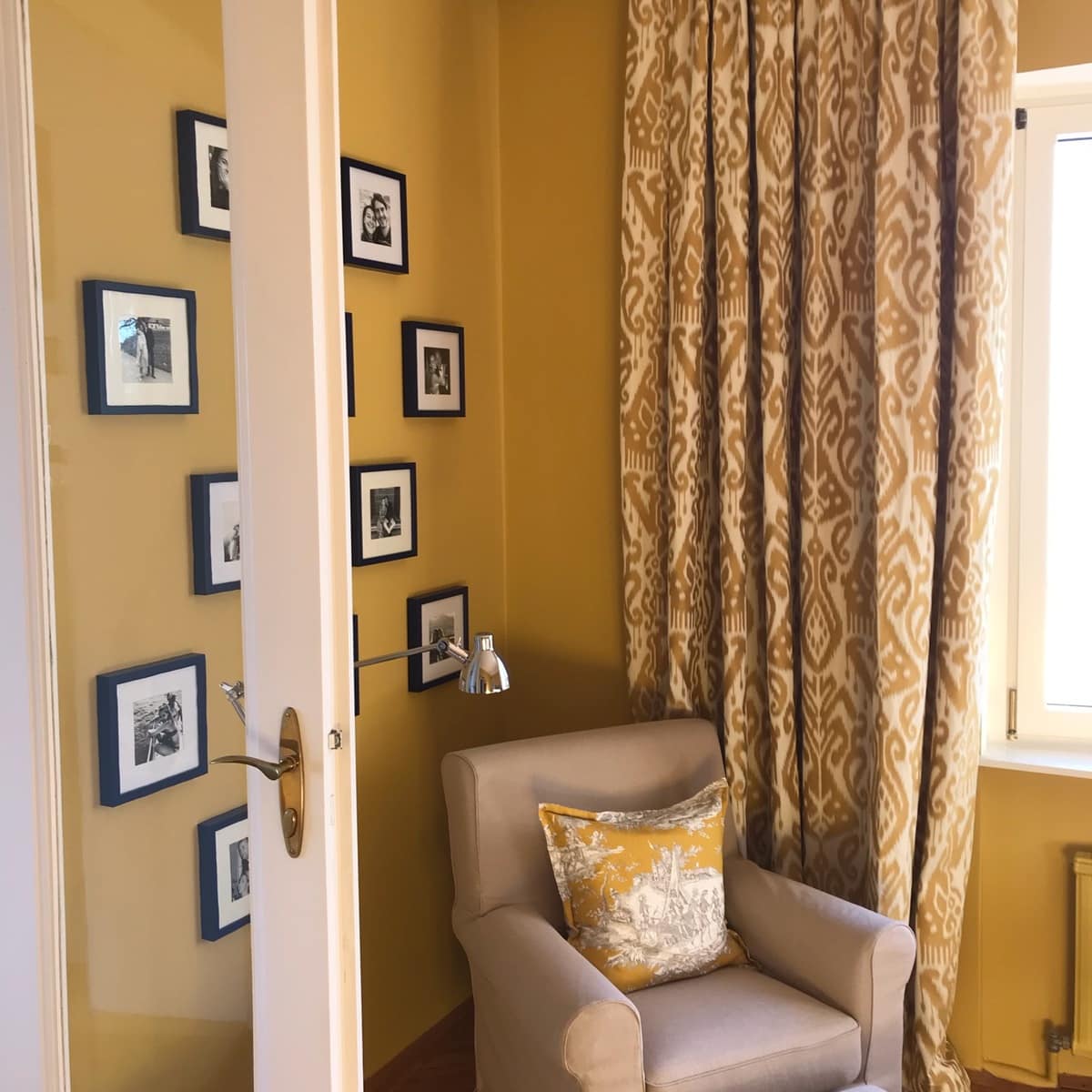 Which yellow suits the room and personal furnishing style best should be checked well in advance so that you can bring the desired joy and warmth into your home in the best possible way.
You can test this with our sample pots on the desired wall, so nothing stands in the way of the yellow dream!