Orange is strong, cheerful and invigorating. This colour stands for energy, joy, but also warmth and always looks bright and cheerful. Orange tones combine the dynamics of red with the friendliness of yellow, making them one of the most mood-enhancing colours. Like no other colour, orange lifts our spirits in seconds. Especially in rooms that face west and thus enjoy the rays of the evening sun, orange is intensified again and immerses the room in a warm glow. A strong orange is very well suited to make high rooms appear a little lower. If this effect is not desired, you can avoid it by painting an expressive orange accent wall and the remaining walls in a delicate light orange tone.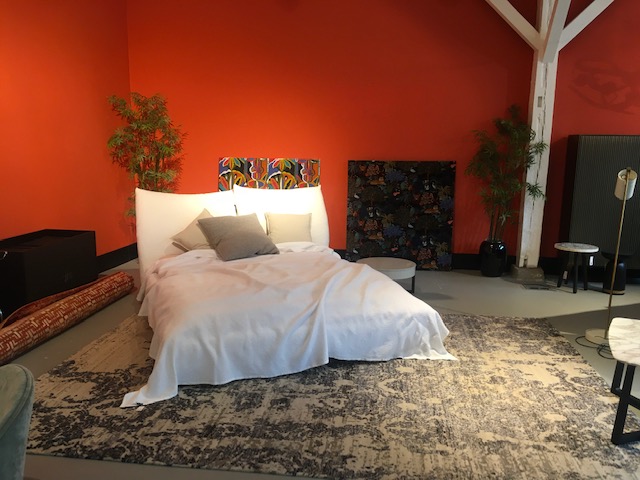 CC040 Taipeh Corall Foto Itta & Bremer Interior
For rooms, orange is particularly recommended in the kitchen and dining room, as orange promotes communication and togetherness and even stimulates the appetite. Orange walls stimulate conversations and make them more profound and open. Kitchen manufacturers have been using this effect for a long time and you can find orange kitchen fronts in almost every kitchen catalog because they know the quality of the color orange very well. But orange can also radiate positive energy in the living room and invites you to linger.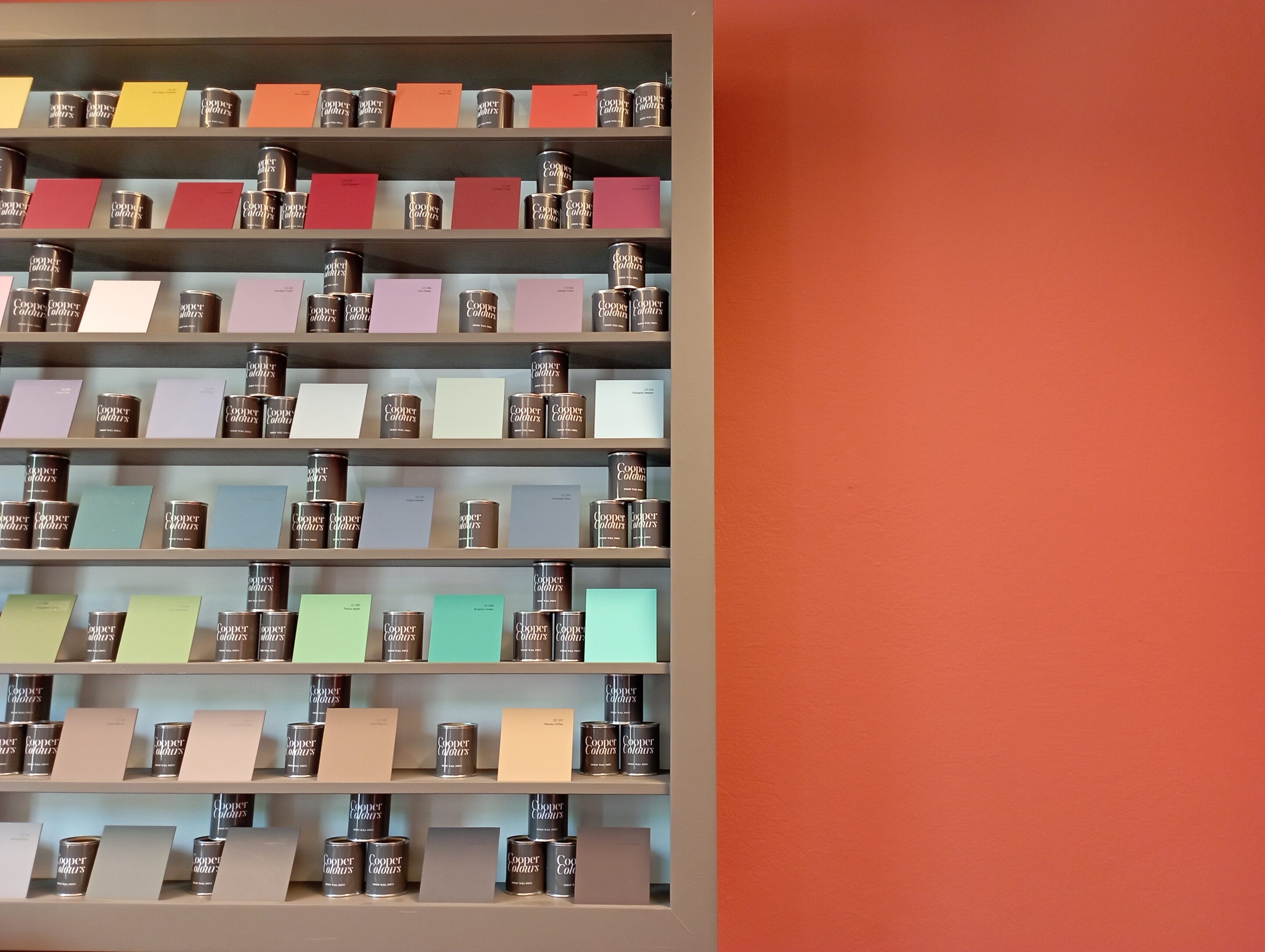 There are different shades of orange, from classic to exotic. They all look very natural, which is because most of the shades of orange are inspired by nature. The colour palette includes both a strong, intense orange and pastel-colored peach tones. We've categorized these as light oranges, medium oranges, and reddish oranges.
Bright orange tones include peach and apricot tones. Our orange pastel tones are reminiscent of creamy ice cream or delicately melting sorbets. A bright orange on the walls makes a room look fresh and feminine. A suitable shade of orange from our color palette would be our Montreux Apricot, for example.
Strong, radiant, like a juicy orange. The intense, loud tones, like those found in summery cocktails or fresh fruit, ensure a good mood in every room. Try our Paris Orange, for example. Despite the color strength, these tones appear natural and harmonious, think of autumn leaves, pumpkins, mangoes or oranges, all these orange tones are given by nature. As described above, intense orange tones are suitable for the kitchen and dining room, but since a strong orange has also been shown to promote creativity and motivation, it also makes it a suitable colour for the study.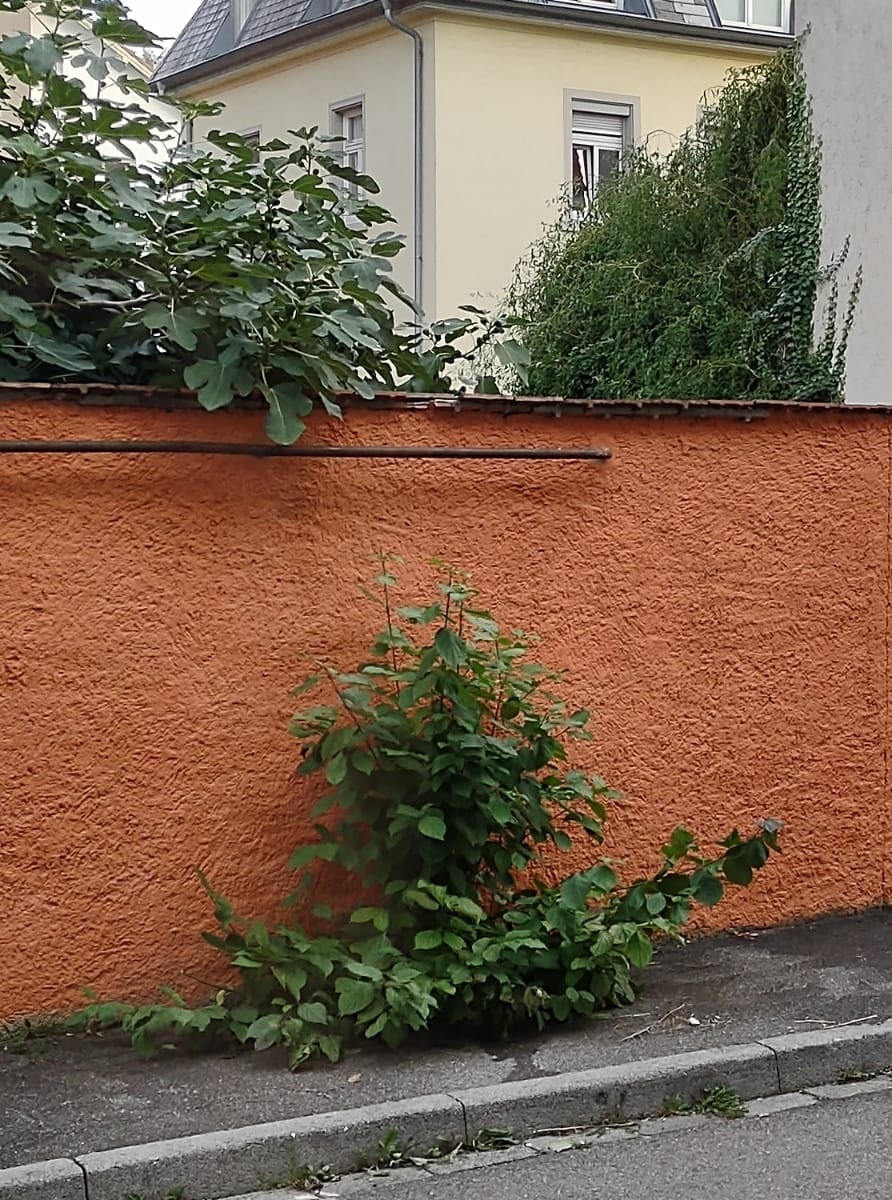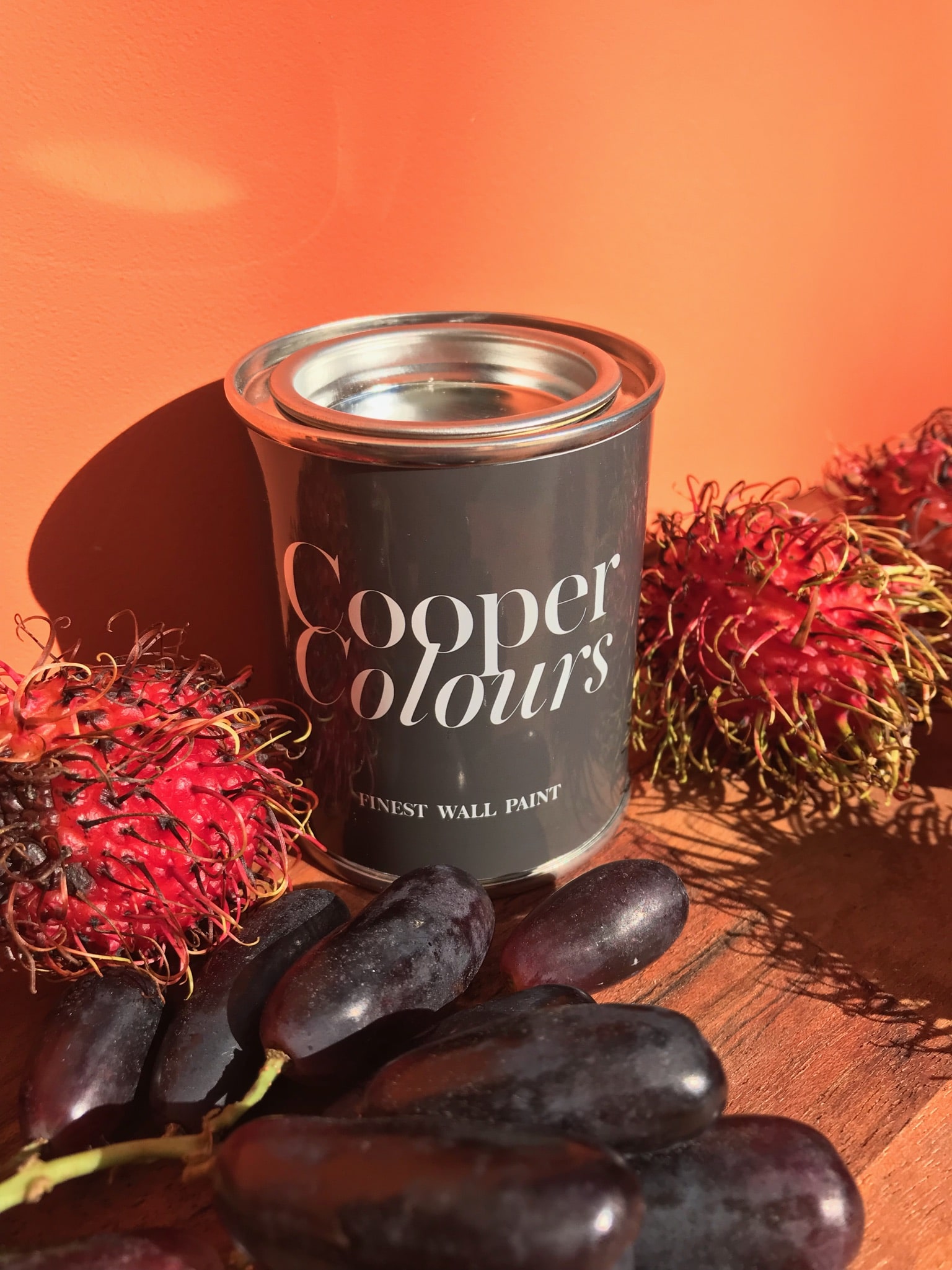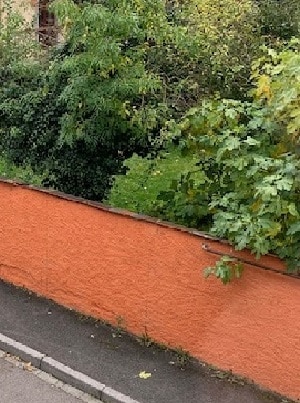 Shades that can be assigned to the red-orange category would include terracotta or blood orange. Our Mumbai Pepper and our Jaipur Saffron also fall into the category of red-orange shades. These orange tones are reminiscent of oriental spice markets and create a feel-good atmosphere with fresh pep.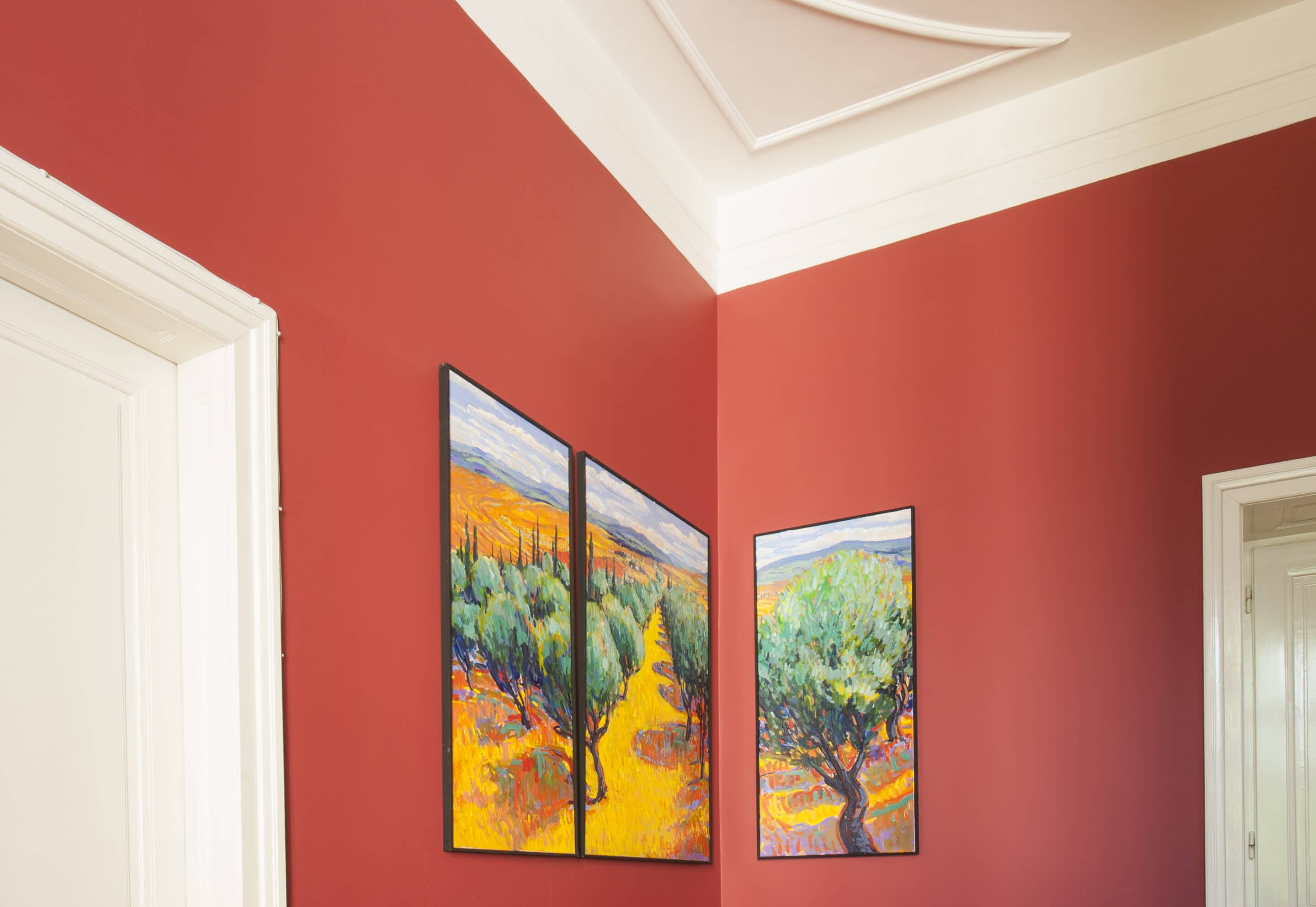 A wide variety of furnishing styles go well with orange walls, even playful ones such as the trend with unusual tropical prints and fruity decoration or the classic retro look, in which clear lines keep the energy of orange in check.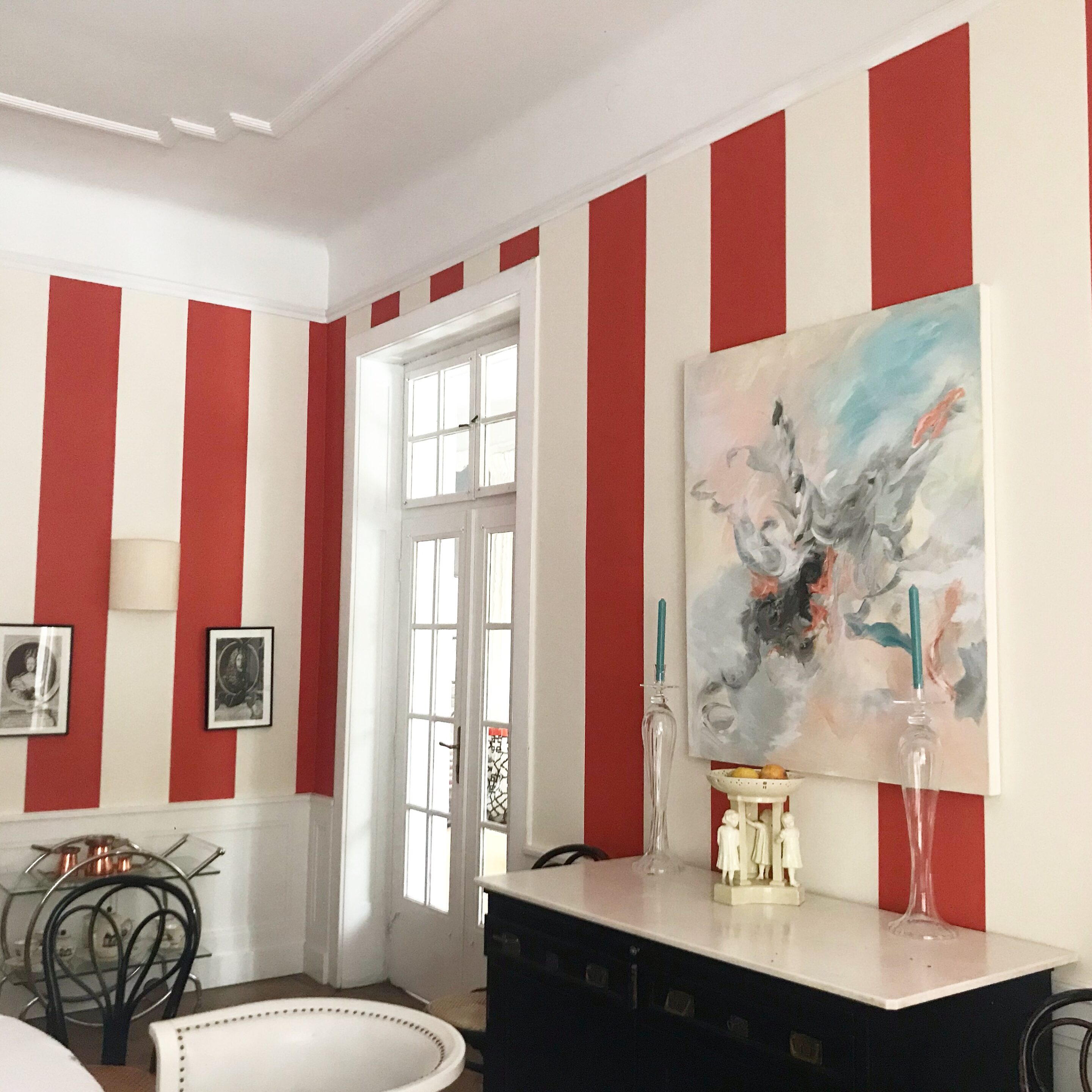 The combination of light orange tones with white or cream-coloured elements is more moderate and timeless. A delicate orange together with white refreshes, warms and takes the heaviness out of a room. Particularly recommended for small rooms with low incidence of light. But taupe and beige tones also offer the necessary compensation and balance the color tone.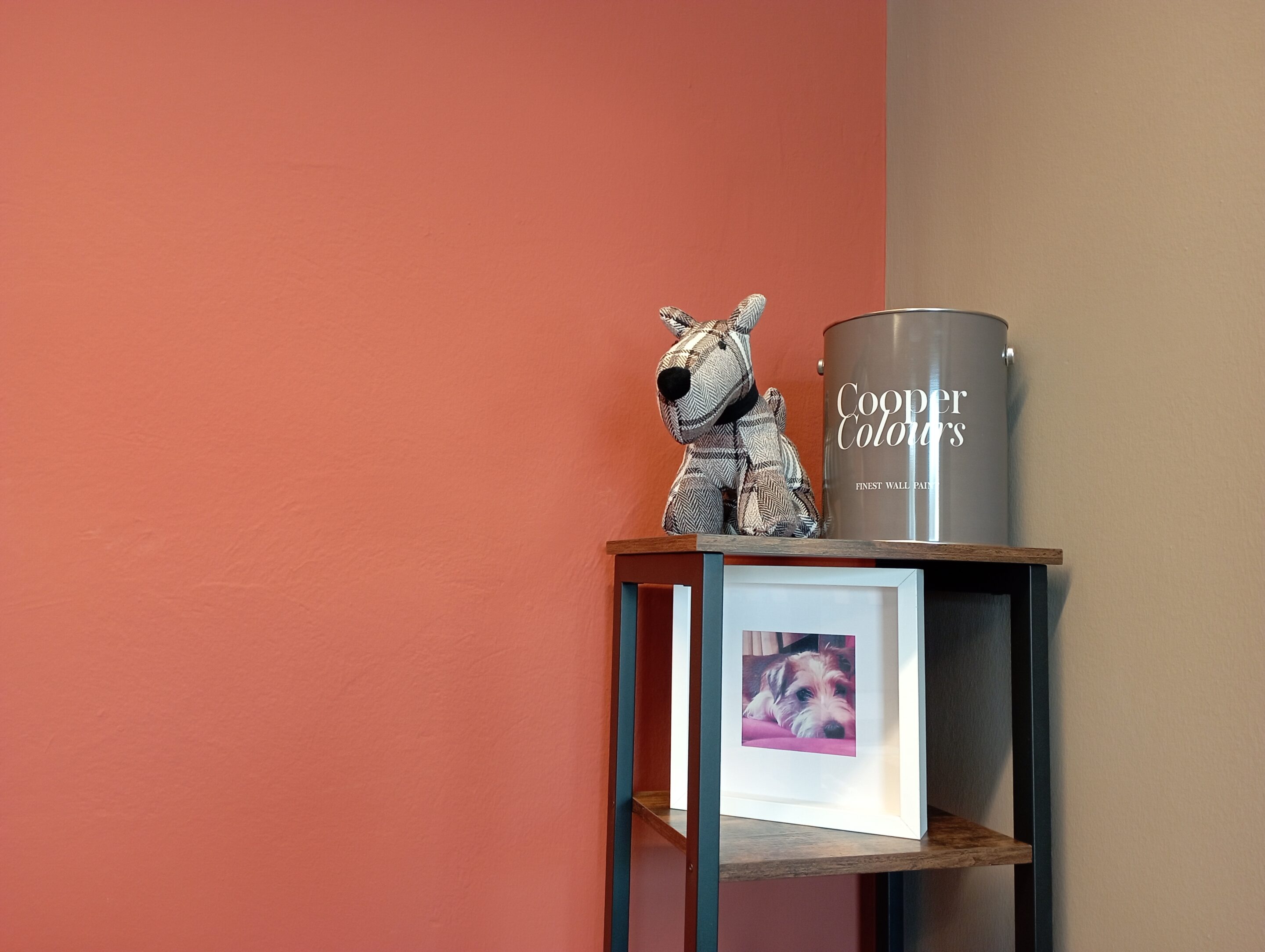 CC305 Jaipur Saffron combined with CC106 Amsterdam Taupe
However, orange can be combined with more colours than you might think at first glance. Using light or medium blue as a complementary contrast to orange will brighten up a room, while a lovely smoky blue paired with orange will bring a modern look. If there is a romantic colour combination, it would definitely be pink and orange. In this combination, a room appears lovely and delicate. Orange walls are given a natural touch with the combination of olive tones, while gray mutes a bright orange, making it the perfect partner for modern, casual style. But also tones, which one often does not expect, result in a great combination.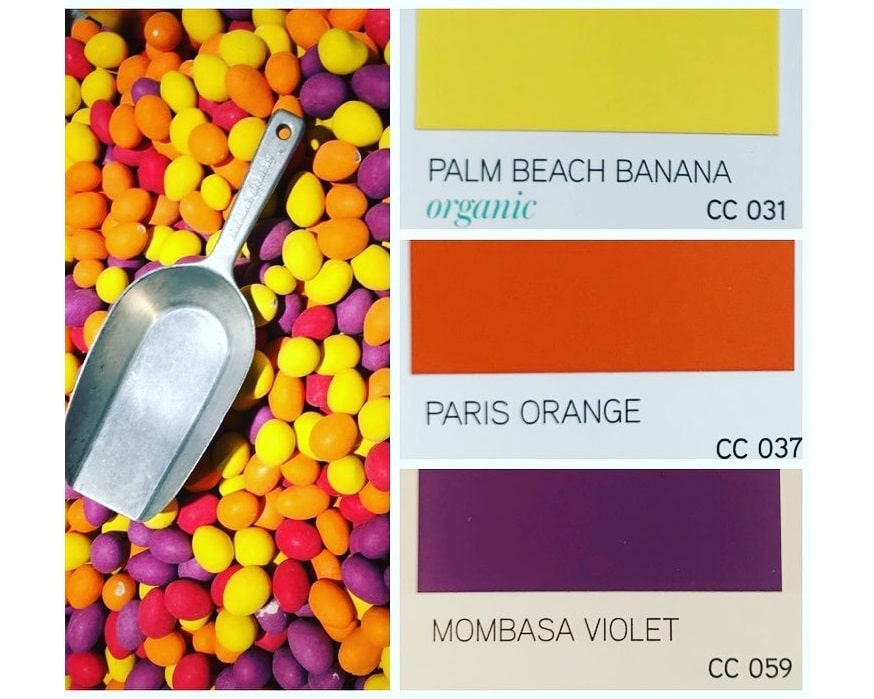 For example, try a mix of orange and pastel green. Both colors often occur together in nature and result in a modern yet elegant interplay. And last but not least, one must not forget the popular combination of orange and yellow, which give every room a sunny and warm flair. You can bring even more warmth into your home with decorations and home accessories in chocolate and warm brown tones.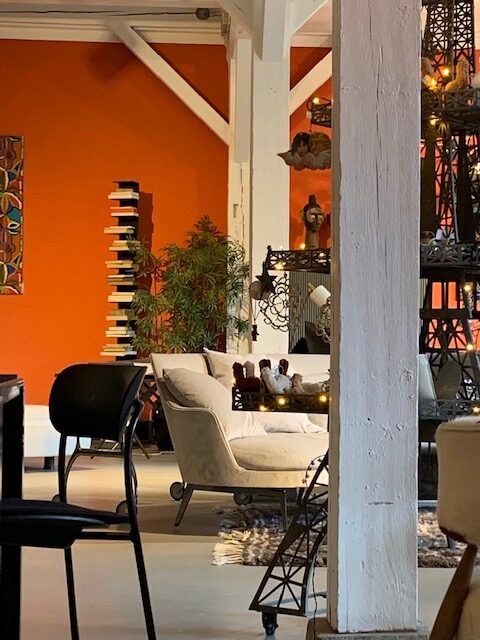 the new showroom at Itta & Bremer in Constance was painted with Cooper Colors paints
Discover the variety of colors of a sunset and find with us the right orange for your walls.